Alton Youth Symphony Chamber Performance
 Alton Godfrey Rotary Club Christmas with Santa
AYS featured in MIMAC October Newsletter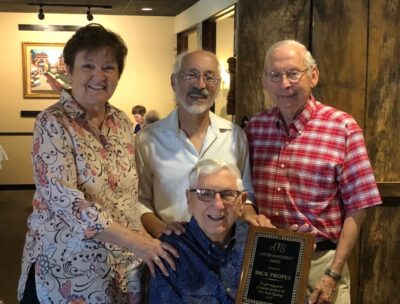 Alton Youth Symphony Presents Lifetime Achievement Award
Alton, IL (June 20, 2022) — The Alton Youth Symphony presented a Lifetime Achievement Award to retiring board member Dick Propes during a luncheon at Santino's in Alton.  Dick served on the board of directors for over forty years and will be greatly missed.  Pictured above, standing left to right: Pam Stumpf, Secretary, Joe Cacciottoli, President, and Ken Conrady, founding member. Seated is Dick Propes.
Alton Youth Symphony Chamber Performance
Sunday, December 10 at Alton Symphony Concert Intermission
Alton Youth Symphony 54th Annual Concert
Sunday, November 20, 2022
AYS is a Grand Opportunity for Your Young Musician
AYS furthers musical opportunities for youth in the greater Alton area by providing musicians up to grades 8 who play string, wind and percussion instruments an opportunity to play in a full symphony orchestra setting. In addition, a smaller goup of less experienced string players comprise the Junior Youth Symphony. Our chamber group, comprised of our most accomplished players, performs at various public venues as a means to give back to the community. Through the leadership of professional music directors and conductors, students are challenged to perform a diverse and challenging mixture of orchestral pieces. Throughout the concert season, other professional musicians and music educators are recruited to conduct sectional coaching sessions to enhance the performance capabilities of the youth participants.
AYS membership is open to young musicians without regard to race, gender, education or disability. AYS members include many children who attend schools that do not offer music programs or whose music programs do not include string or symphony orchestra curriculum. Each concert season, including our most recent, AYS performs two concerts that are free to the public.
Our organization is unique because there are no fees involved. In addition, thanks to the generosity of our community; we are able to provide scholarship opportunities for private lessons and summer music camps.
If you are really looking for a place to grow as a musician; this is the place for you!
The Alton Youth Symphony's continued success would not be possible without the generous support of parents, community members, and local businesses. Click Here if you would like to partner with the Alton Youth Symphony through a donation.